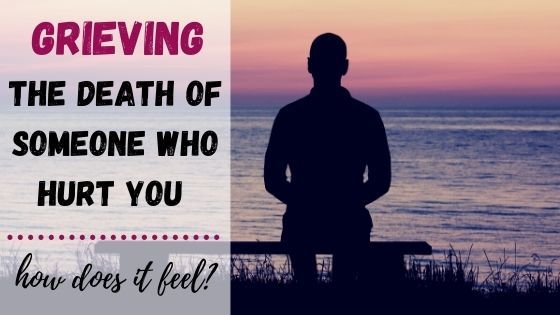 Every person grieves the loss of a loved one differently – partly because each person is an individual but also because each relationship is different.
I've written about this before: How to Cope with Grief and Loss
And today we're talking about grieving from a different angle:
Grieving the death of someone with whom you had a difficult or toxic relationship.
Recently, a friend sent me an article on grieving the death of someone you didn't like. I resonated with the article so much – not because I didn't like the person who died, but because the relationship was difficult.
I'm going to be vulnerable here and say that I experienced this kind of grieving when my mom died. Ours was a difficult relationship.
When she died many people messaged me to say how sad they were and I felt isolated and bad for not feeling the same way they were. There were only a few people with whom I could be real about how I was feeling.
I buried my mom's ashes with mixed feelings. Sadness because her life was over, yet relieved because I wouldn't have to try and manage the relationship any more. Sad because I never received from her what I needed, and sad because she couldn't give it.
I pressed the ground into place over her ashes, relieved to be safe and free. And sad because I shouldn't have to feel relieved.
I wish it could have been different.
I'm hoping my experience will help someone else deal with a situation like this. So, let's unpack it a bit.
Here's what may happen when someone you struggled to have a healthy relationship with dies:
You're not sure you're feeling grief because you may be relieved or happy that the person is no longer alive – and then you feel guilt for feeling this way.
You may feel relieved or happy that the person has died because they threatened your physical or emotional safety.
Other people are sad that the person has died and have more traditional grief feelings. This can leave you feeling isolated, confused, and alone because your grief is not validated by others. They talk about the loss of someone they loved (or even the same person who's loss you are grieving) and you don't feel the same way.
You may still feel the pain of the difficult relationship. Just because the person has died doesn't guarantee closure.
Here's what to do if you are grieving like this:
Give yourself permission to grieve in your own way. Your relationship with the person was unique; allow your grieving to be unique too.
Tell yourself it's OK to feel relief. You are relieved because you are now safe from the person's toxicity and no longer need to fear them. Feeling relief does not make you bad. It is not the same as being glad someone is dead.
Recognise that your grief may take the form of grieving the relationship you couldn't have with the person. You needed a healthy mom/dad/spouse/friend or even child, and it was not possible with this person.
You can still get closure even though the person is gone. It may feel that you have unfinished business with the person because there are things you wanted to say and now can't. You can still find ways to say those things. I wrote a letter to my mom and read it out loud in the spot where we buried her ashes. It gave me closure and healing.
In grieving a difficult relationship it's important to consider all the ways the relationship impacted you, to count the cost, and process the hurt and damage.
Allow yourself to work through all those aspects of grieving and give yourself time and permission to feel what you feel.
Your grieving is unique because your relationship with the person was not the same as everyone else's. And that's OK.
Have you grieved the loss of someone who harmed you physically or emotionally? How did you deal with the conflicting emotions?