Is your quiet time with God humdrum? Does your mind wander while you're trying to pray and read your Bible? Do you struggle with knowing what to read?
Are you tired of the bland and boring and wonder why you even bother to have quiet time at all?
Maybe you don't want to give up, but just need some fresh ideas to inject life into your quiet time and take it from stale to stimulating.
This post is going to show you how to take the dull out of devotions and give them a jumpstart.
But first,
What is the purpose of personal devotions?
Why have personal devotions at all?
A mistake most of us make is thinking that quiet time is for acquiring knowledge of the Bible. Knowledge is not a bad thing, but the primary purpose of personal devotions is to develop a relationship with God. To get to know Him.
Instead of seeking to collect information, we should be seeking to connect with God.
"Some people make the mistake of missing the One to whom the Bible is directing them. They become enamored of learning the depths and complexities of the Bible, and they forget that it points us toward God." [i]
"Each day, in our quiet time, in the inner chamber with Him (God) and His Word, our chief thought and aim should be to get the heart fixed on Him." [ii]
If this is our aim, we will get to know God and have communion with Him. We will grow in knowledge and in relationship with Him.
10 Practical Ways to Revive Quiet Time with God
Building any kind of relationship demands two-way communication. This applies to a relationship with God – us talking to God (prayer) and God speaking to us (through His word).
These 10 points focus on both sides of communication.
1. Be intentional about meeting with God, communing with Him, hearing from Him.
This is our number 1 tip. When you sit down for quiet time with God, forget about obligation and see this as meeting with a friend who cares for you and has something to say to you. Expect to hear from God during this time as you would expect to hear from a friend with whom you are conversing.
2. Ask the Holy Spirit to guide you as you study and pray.
The Bible is the expression of God's mind and we need the Holy Spirit to interpret it to us so that we are not led astray by our own thinking or the Devil's input.
Related: 6 Ways to Discern God's Voice
3. Read through the entire Bible.
Doing this will give you a broad overview of the Bible and a sense of the 'mood' of each book. I did this by reading one chapter of the Old Testament and one chapter of the New Testament each day. You can read less or more but be careful of allowing it to become a ritual that you rush through.
"…while we need to diligently study the Bible, it was not written to satisfy our intellectual curiosity. It was written to give us the path to God, life, and growth. Keep that as your goal, and ask God daily to bring life to you through its pages." [iii]
4. Memorise.
 Memorisation used to scare me because I thought it was just way too hard! But, as I began, I found it to be easier than I thought, and I've managed to memorise some chapters of the Bible instead of just isolated verses. Hiding God's word in our hearts allows Him to use it when we need it most by bringing it back to our minds.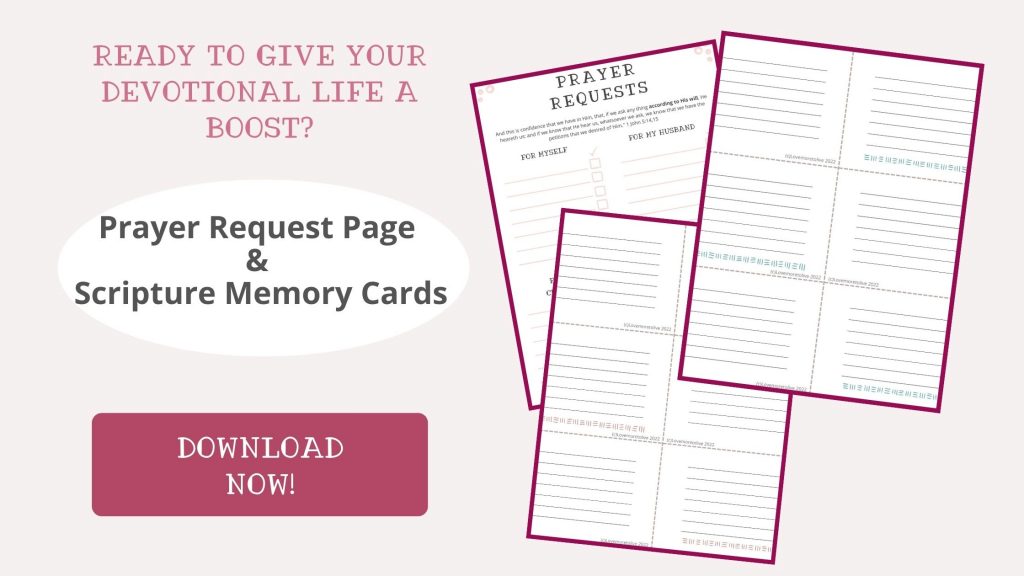 5. Journal.
Before you ditch this idea! Journaling does not mean you have to write something every day, or pages of long-hand script. Write when you have something worth writing about – an answered prayer, guidance from God, something that really speaks to you in your reading. Use bullet points if you're not into writing.
The longer-term blessing of journaling is that you can go back and review what God said to you, the prayers He answered, or the encouragement you received. Recording your walk with God is like erecting monuments to remind you of what He has said and done for you personally, strengthening your relationship with Him.
6. Topical studies/word studies.
Studying a particular topic or word can be really fun. Use a concordance (apps available on your phone) to look up the word and then read every reference. This can be time consuming, but never wasted because there are gems of truth hidden that can only be found by searching.
Ideas for topical or word studies to get you started:
Struggling to know what to read for your devotional time? Sign up to receive the monthly Bible reading plan!
7. Cross-referencing.
Use the margin of your Bible and follow the cross-references found there. Mark the ones that are meaningful, for future reference. Start adding your own as you get to know your Bible better. This will add a richness to your Bible study.
Don't be afraid to write in your Bible. It is a study book; mark it for future reference!
Below is an image of what John 15 looks like in my Bible. I often go back and read the verses I have penned in and the extra comments and definitions of words.
8. Meditation.
Take one verse and break it down word for word. Look up the meanings of the words with the Strong's concordance and a normal dictionary. I am often surprised at the deeper meaning of words I thought I understood. This adds a richness and depth to the Word.
"Thy words were found, and I did eat them; and thy word was unto me the joy and rejoicing of mine heart…" Jeremiah 15:16
Eating God's word means concentrating on finding the thought that God has put in that verse for you. Dwell on it until that thought becomes your own – part of you.
9. Pray using your Bible.
If you struggle to pray, try using the Bible to help you. Here's how:
Use the acronym PRAY as you pray:
P – praise (Thanksgiving & praise)
R – repent (Confession of sin and repentance for it)
A – ask (Make your requests known to God, thank Him that He will provide all your needs)
Y – yield (Submission to God's will)
Find verses for each of these and read them as you pray.
This will help you stay on track with your prayer, as well as enrich it.
For more on prayer, read 6 Things to Do When You Don't Feel Like Praying.
10. Make it personal.
Bible study without personal application is only half done. In His promises and warnings, God is speaking to you personally. Before you end your quiet time, ask yourself what the message is for you. Ask God to reveal to you what He wants you to see in the verses you have read.
"Too many people approach scripture without an intimacy with God, and they either end up frustrated because they've gotten so little out of it, or, far worse, amass an intellectual understanding quite apart from any real communion with God. It usually results in religious pride. The Bible is meant to be read in fellowship with God."[iv]
Related: 4 Ways to Grow as a Christian
BONUS TIP:
Ask God what you should read and how you should pray.
All of the above "methods" will boost your devotional time with God, but in addition to all of these, it adds a wonderful richness to devotional time if you ask God, "What would you have me read today? How would you have me pray about this situation?"
Letting Jesus – your Shepherd – lead you in your reading allows Him to take you right to a passage that is exactly what you need for that day.
Seeing quiet time as an opportunity to build a relationship with God will keep your devotions from becoming a ritualised obligation and give them the jumpstart they need.
Struggle to have consistent devotional time? Read 10 Ways to Develop Consistent Devotional Time with God
Why do you have personal devotions? Which one of these ideas are you going to implement, starting this week?

---
[i] Drs. Henry Cloud & John Townsend, How People Grow, 199
[ii] Andrew Murray, The True Vine, pg 61
[iii] Drs Henry Cloud & John Townsend, How People Grow, 200
[iv] John Eldredge, Walking with God, 42