Let's face it, motherhood is challenging and exhausting.
It can feel overwhelming at times – like everything is spiralling out of control.
You may feel like a failure because you yell at your kids, or don't give them enough attention.
God's word has some encouragement for you, mama! He sees you. He understands your challenges and struggles.
He has a special place in His heart for you.
Let's take a look at some verses designed especially to give you – tired, weary mom – hope and courage.
22 Encouraging Bible verses
#1 Matthew 11:28-30
"Come unto Me all ye that labour and are heavy laden, and I will give you rest. Take My yoke upon you, and learn of Me; for I am meek and lowly in heart: and ye shall find rest unto your souls. For My yoke is easy, and My burden is light."
Instead of taking on the burdens you think you should, go to God and ask Him to lay His burdens on your heart.
So, even though you will still have many things to do, if you are under God's direction and wearing His yoke, the burden will be light.
#2 Isaiah 40:29, 31
"He giveth power to the faint; and to them that have no might He increaseth strength. But they that wait upon the Lord shall renew their strength; they shall mount up with wings as eagles; they shall run, and not be weary; and they shall walk, and not faint."
When you feel like you can't go on, God will renew your physical and emotional strength.
#3 1 Peter 5:7
"Casting all your care upon Him; for He careth for you."
You can come to God with all your cares and leave them with Him. He cares for you.
#4 Isaiah 41:10
"Fear thou not; for I am with thee: be not dismayed; for I am thy God: I will strengthen thee; yea, I will help thee; yea, I will uphold thee with the right hand of my righteousness."
This is a promise you can rely on. God promises to help you, strengthen you, and hold you up when you feel like you can't go on.
#5 Galatians 6:9
"Let us not be weary in well doing, for in due season we shall reap if we faint not."
Perseverance in doing the work before you will bring reward in time. You may not see it today, but God will reward you if you don't give up and abandon the work.
Related: The Devil's 4 D's that separate you from God
#6 Psalm 128:2
"For thou shalt eat the labour of thine hands: happy shalt thou be, and it shall be well with thee."
God has a special reward for you, mom. Your work will be rewarded.
#7 1 Corinthians 15:58
"Therefore, my beloved brethren (moms), be ye steadfast, unmovable, always abounding in the work of the Lord, forasmuch as ye know that your labour is not in vain in the Lord."
The work you are doing in your home and with your kids is not in vain. Keep striving to do it in the Spirit of the Lord.
#8 2 Corinthians 9:8
"And God is able to make all grace abound toward you; that ye, always having all sufficiency in all things, may abound to every good work."
We serve a God who has unlimited resources – and they're available to you! There are lots of absolutes in this verse!
#9 2 Chronicles 15:7
"Be ye strong therefore, and let not your hands be weak: for your work shall be rewarded."
If you are faithful, God will reward your work.
#10 2 Corinthians 12:9
"And He said unto me, My grace is sufficient for thee; for My strength is made perfect in weakness."
This work is not about your ability and strength. It's about allowing God to do it through you with His grace and strength.
#11 Psalm 31:24
"Be of good courage, and He shall strengthen your heart, all ye that hope in the Lord."
God will strengthen your heart. Just ask Him.
# 12 Hebrews 6:10
"For God is not unrighteous to forget your work and labour of love, which ye have shewed toward His name, in that ye have ministered to the saints (your children), and do minister."
God sees you. He sees your faithfulness, your weariness, your trials. He will reward you.
Related: 10 Ways to develop consistent quiet time with God
#13 Mark 6:31
"And He said unto them, Come ye yourselves apart into a desert place, and rest a while: for there were many coming and going, and they had no leisure so much as to eat."
God calls you to come apart and take care of yourself so you can continue the demanding work of being a mom.
# 14 Exodus 33:14
"And He said, My presence shall go with thee, and I will give thee rest."
How precious that God's presence will give you rest. Strive to walk with Jesus throughout the day.
#15 Philippians 4:6,7
"Be careful (anxious) for nothing; but in every thing by prayer and supplication with thanksgiving let your requests be made known unto God. And the peace of God, which passeth all understanding, shall keep your hearts and minds through Christ Jesus."
Don't forget to take all your worries and cares to God in prayer. Thank Him that He will help you.
If you need to develop a quiet time habit with God, check out 30 Days to a Quiet Time Habit.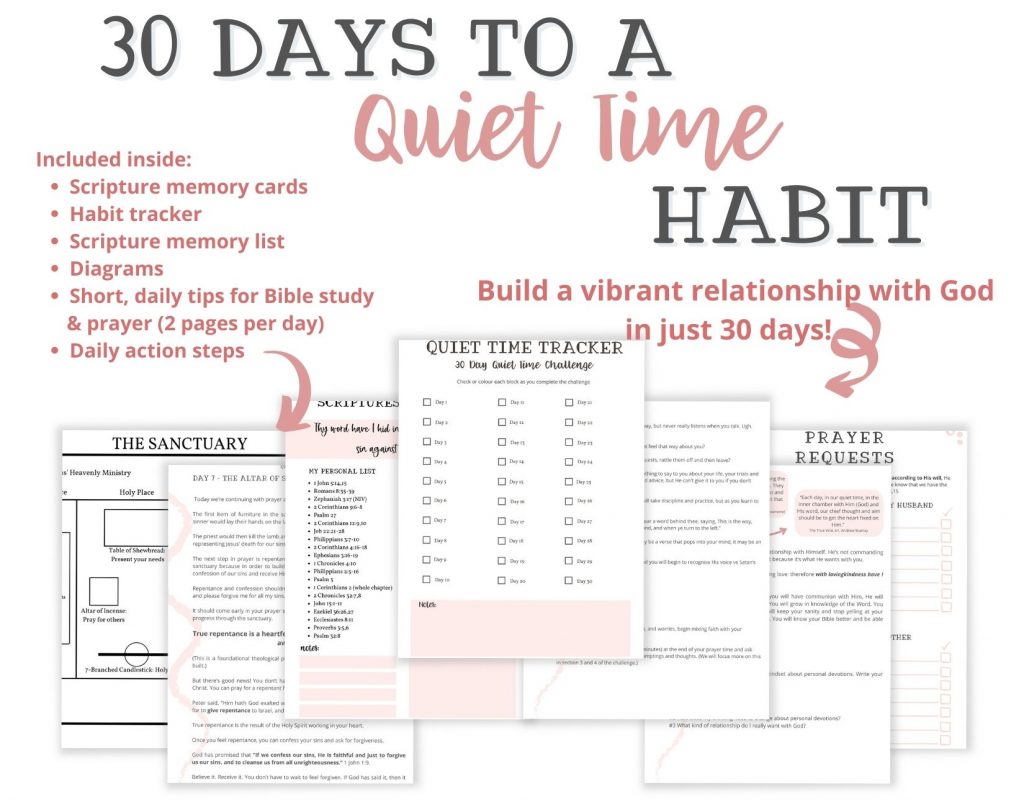 #16 Matthew 6:34
"Take therefore no (anxious) thought for the morrow: for the morrow shall take thought for the things of itself. Sufficient unto the day is the evil thereof."
Don't borrow trouble from tomorrow or next week. Deal with today.
#17 Philippians 4:19
"But my God shall supply all your need according to His riches in glory by Christ Jesus."
This is God's promise to you. You can rest your soul on it.
#18 Philippians 4:13
"I can do all things through Christ which strengtheneth me."
Again, this is not about you, but what about God wants to do through you.
#19 Jeremiah 31:25
"For I have satiated the weary soul, and I have replenished every sorrowful soul."
Go to Jesus for replenishment. He will not turn you away.
Related: 3 Ways to develop robust faith
#20 Psalm 68:35
"…The God of Israel is He that giveth strength and power unto His people. Blessed be God."
We serve a God that gives His people power. He will strengthen you.
#21 Psalm 73:26
"My flesh and my heart faileth: but God is the strength of my heart, and my portion for ever."
When you feel like you can't go on – physically and emotionally – God will strengthen you.
#22 Deuteronomy 33:27
"The eternal God is thy refuge, and underneath are the everlasting arms: and He shall thrust out the enemy from before thee; and shall say, Destroy them. "
The eternal God is the one who carries you in His arms. Rest in Him.
Facing a challenge you don't know how to overcome? Get the 7 Day Challenge Buster Bible Study and transform your thinking about God's power and your challenges!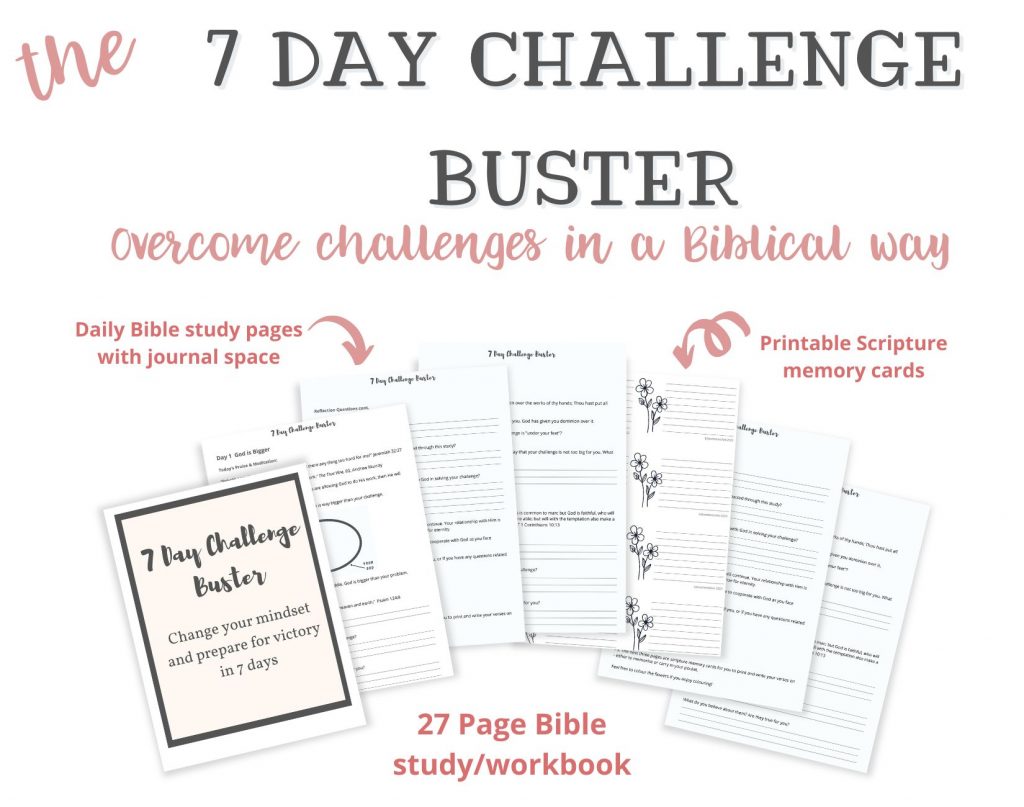 How to use these verses
Write it on a sticky note and put it where you'll see it – the fridge, bathroom mirror, above your sink.
Share on your social media accounts – for the encouragement of your friends and fellow moms.
Create a wallpaper for your phone – so that every time you open your phone you'll be reminded.
Write on a chalkboard or whiteboard – in your kitchen to help you memorise and remember.
Memorise one verse each week during your quiet time with God. Review while you wash dishes, cook, or cuddle your kids.
Put it to music – a great way to memorise and the verse will stick in your head forever. Who cares if you're not musical, make up a tune and teach it to your kids. (I have a few verses memorised this way and sing them to myself from time to time.)
God's word has power to lift you up, renew your strength, and encourage you. Take the time to read it so you can receive the blessing God has in store for you.