Note: This post has been updated and was first published on October 4, 2017.
I once looked after a friend's two boys for a day. We headed out to the garden to throw out the compost and cover it up with a spade. I gave them a small spade because they were only 3 and 6 at the time. They handled the spade like pro's and said, "We use a bigger spade than this at home."
I was impressed…
The Bible says, "It is good for a man that he bear the yoke in his youth…" Lamentations 3:27
Learning a good work ethic when young is one of the best things you can do for your kids (or for yourself, if you are still young).
Why is work important for kids?
"Learning how to work step by step through a chore helps children apply the same principles in their own work and play… Learning to keep things organized results from having experienced things being organized. When a child participates physically, mentally and emotionally, in the organization of things within the home, his capability to do so in school and in other activities will be immeasurably increased." [i]
"Dealing with 'external tasks' helps children to organize their 'internal processes.' Even growth in logical thinking is aided by learning the 'logic' of ordinary household procedures such as putting toys away or cleaning one's room. Furthermore, being required to do chores helps children learn to deal with frustration and ambiguity. Children who do chores regularly become better problem solvers." [ii]
Other benefits of work:
It teaches responsibility at a young age.
Makes children feel needed, boosting their self-worth, and giving a sense of belonging.
It teaches character – perseverance, thoroughness, neatness – these traits will stay with them for life.
It keeps kids out of mischief.
It teaches helpfulness.
It balances emotions. I've learned that on my down days, ignoring my feelings and doing some work always makes me feel better. I make sure the work is physical – gardening, housecleaning, laundry, washing windows, mowing the lawn.
It balances the mind and helps it to develop better.
"Blend the physical labour with the mental, and the powers of the mind will develop far better." [iii]
"Work is good for children; they are happier to be usefully employed a large share of the time; their innocent amusements are enjoyed with a keener zest after the successful completion of their tasks. Labour strengthens both the muscles and the mind." [iv]
Related: 12 Reasons to give kids chores
When should you start teaching your children to work?
The sooner the better. As soon as they can walk, they can pick up toys, dust chair or table legs, "sweep" with a kiddies broom.
"As early in life as possible they (children) should be trained to share the burdens of the home." [v]
Our boys were barely as tall as the mower when they began mowing lawns.
Related: Age-appropriate chores for kids (with chore charts)
How should you teach your children to work?
Give them chores appropriate for their age and teach a good work ethic – to work quickly and neatly.
"Teach your children to be useful, to bear burdens according to their years; then the habit of labouring will become second nature to them, and useful work will never seem like drudgery." [vi]
Daily chores like setting the table, washing dishes, or sweeping can be assigned for a week at a time to avoid confusion about whose turn it is to do what.
It helps create good habits if your child does a chore every day even if it is not necessary. I divided up the bathroom chores to be done by the same child for a week at a time. One cleaned the toilet, one cleaned the bath, the third cleaned the sink and mirror. (That worked well for me because I had three kids).
Weekly chores like dusting, vacuuming, mowing, or laundry can be assigned on the day.
Chore charts are useful as your children get a little older. If they can't read yet, then draw pictures for each chore.
Four steps for teaching chores:
Show your child how the chore is done.
Do it together.
Get him or her to do it with supervision (do this three times on separate days).
Let him or her do it without supervision – but you check afterwards and evaluate. Be sure to do this follow up. Once they are consistently doing it well, then occasional follow-up will be sufficient.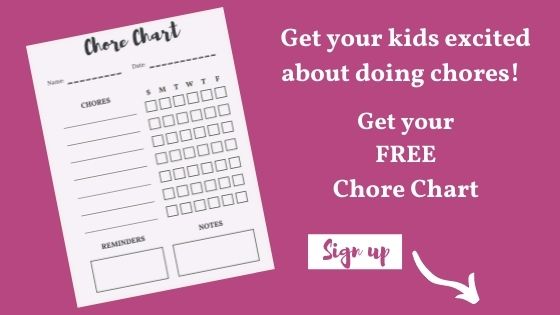 Tips for teaching your children how to work:
It will take longer for you to teach them than to do a chore yourself, but you are laying the foundation of helpfulness in their character.
Let them THINK they are helping you. One day they will be very, very useful and help to lift the burdens of the home.
Your children may bother you when they help you, but don't let them know it. Praise them for trying.
Be patient while your kids learn to work. Expect some mess. Expect that the job may not be done according to your standard at first.
Use clear, simple instructions, especially with a young child.
Don't assume your child knows how to do something even if he has watched you do it.
Break the job down into smaller, manageable parts.
Stay with your child as she works until she has successfully completed a chore three different times on separate days.
Give positive feedback after the job is done.
Have consequences for chores not done. Train in right habits.
Stop work while it's still fun. Don't drag it out just because you have good workers.
Demonstrate a positive attitude about work yourself.
Work before fun.
Teach efficiency – like making one trip to the bedroom carrying four items instead of four trips.
Help your child think by asking questions. "What needs to be done next in your bedroom?"
Be sure to follow-up on chores. Don't allow your child to skip chores (unless he has a good reason).
Work is honourable and not degrading if done with the right attitude.
Help your kids learn the value of hard work by working hard.
Are you teaching your kids to work? What tips would you add?
[i] How to Teach Responsibility, Harris Clemes, Ph.D, Reynold Bean, E.M
[ii] ibid
[iii] Child Guidance, 126 Ellen G White
[iv] Adventist Home, 286, Ellen G White
[v] Child Guidance, 119,
[vi] Child Guidance, 122