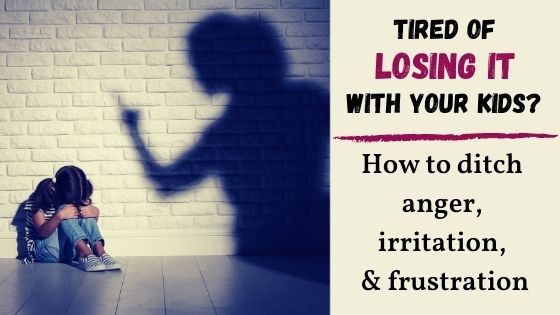 Do you keep losing it with your kids? Are your frustration and irritation levels through the roof? Are you horribly impatient?
If you answered yes to any of these, welcome to my party!
Feeling irritated, frustrated, and impatient with my kids was the story of my life until I figured out that the problem wasn't so much my children as it was *me*.
What I didn't realise was that most of the time my kids were reacting to my mood, attitude, and treatment of them.
When I figured this out I noticed that when I smiled my children were happier and easier to manage. When I frowned and scolded, they tended to be grumpy and difficult.
Get this: You, Mom and Dad, create the atmosphere of your home. You determine the emotional climate. Not your children.
Does that mean that once you figure out how to be happy all the time, your kids will never be grumpy again?
Umm… No.
What it does mean is that your children's mood doesn't have to determine yours, and yours has a greater effect on them than you realise.
If this is so, how on earth do you get a grip on yourself and stop negatively impacting your children?
Let's look at ways to overcome anger, irritation, frustration, and impatience with your kids:
1. Take ownership of your feelings
Stop blaming others for your responses. Do you say things to your kids like, "You make me angry when …" or "If you would stop doing …….. I wouldn't be impatient with you"?
No one makes you angry. Anger is your response to a situation. While you can't control someone else's behaviour, you can control your response to their behaviour.
Stop blaming your kids for how you feel and take ownership of your reactions.
2. Surrender your feelings to God
Part of taking ownership means recognising that your reaction is not good and then getting yourself under God's control. Pause and pray. (Leave the room if you have to – I did this a lot!)
But, don't pray about your "naughty" children and whine in God's ear about your lot in life.
Pray the prayer of surrender: "Lord, I give you my irritation and frustration. Please take it from me and give me your thoughts and feelings." This is the time to claim Ezekiel 36:26,27 – God promises you a new heart and a new spirit, but you'll have to give Him your junky thoughts and feelings first. Richard and I call it the "Great Exchange".
When I began to do this it was a real struggle to get my feelings submitted to God. Sometimes I had to stay in my room for a while before my feelings were subdued and I was able to relate to my children without frustration and irritation. But the more I did this, the easier it became.
3. Figure out why you're angry or irritated and deal with that
One of the most helpful tips I've ever learned is that anger is a secondary emotion. In other words, you're always feeling something before you feel angry. Identify that emotion – frustration, fear, embarrassment – and deal with it and your anger will most likely disappear.
There may also be some very real reasons for your anger and irritation. Learn to identify what those could be:
you're tired
you need some alone time
you packed your schedule too full
your expectations are too high
you've neglected prayer & Bible study
you have PMS (if you're a woman)
you're trying to impress others with your children's behaviour and you're embarrassed because they aren't performing well
you're stressed and anxious about something completely unrelated and it's affecting your responses to your kids
Once you've figured out your "why", then:
4. Do the preventive work
Figure out how to help yourself.
A huge reason for my irritation and frustration was because I was too passive. I'd let things slide until I got so irritated, I'd erupt – and deal with things in the wrong way.
So, instead of nagging my kids to do their chores, I created clear expectations and warned them about the consequences of not cooperating. Then I gave the consequences if the chores weren't done. No negotiating, warning, or coaxing. I just calmly used cause and effect.
And wa-la. A huge transformation happened. A lot of my frustration and irritation disappeared. My bad management was my downfall.
Maybe you need to make time for a rest during the day (for yourself!), trim your schedule down to the basics, or lower your expectations. Know your weak spots and do what you can to help yourself.
5. Apologise when you lose it
Apologising doesn't make you weak, and it won't diminish your children's respect for you. To the contrary, apologising repairs relationship with kids and builds respect.
I found that children are very forgiving, and when I apologised my kids were always willing to forgive (which often made me feel even worse, Aaargh!)
And one last thing:
A couple years ago I realised how much easier it is to be a Christian now that my kids are grown! Parenting is exhausting and tries you to the limit.
So, be patient with yourself, and forgive yourself when you fail.
If you are an impatient, easily irritated person like I was, there is hope for you! But the responsibility lies with you to do something about it. Take ownership, learn to surrender yourself to God, and then help yourself by doing what it takes to minimise your anger, irritation, and impatience.
Do you struggle with impatience and irritation? How do you manage those feelings? Which one of these points is a game-changer for you?